Rolled Ring Forging and Ring Rolling Machine Are on the Rise
2019-12-07 14:13:09
Rolled ring forgings are a product of the forging industry, a type of forgings. It is a metal ring (not including sheet material) which is an annular object that is subjected to external force by plastic deformation. This force is typically achieved by using a forging hammer, pressure, or a ring rolling machine. The ring rolling process creates a delicate grain structure and improves the physical properties of the metal. Rolled ring forgings can be seen everywhere in daily life and are an industrial product.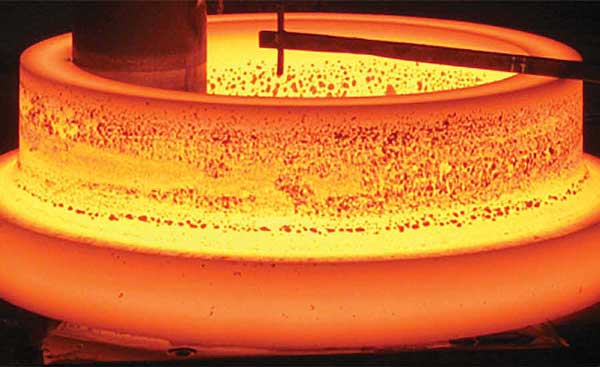 Application of Rolled Ring Forgings
Rolled Ring Forgings in Diesel Engine
A type of diesel engine forgings. Diesel engines are a type of power machinery that are commonly used as engines. Taking large diesel engines as an example, the forgings used are cylinder head, main journal, crankshaft end flange output end shaft, connecting rod, piston rod, piston head, crosshead pin, crankshaft transmission gear, ring gear, intermediate gear and oil pump more than ten species such as body.
Marine Rolled Ring Forgings
Marine forgings are divided into three categories, mainframe forgings, shafting forgings and rudder forgings. The main engine forging is the same as the diesel engine forging. Shafting forgings include thrust shafts, intermediate shafts and stern shafts. Rudder forgings include rudder stock, rudder stock, and rudder pin.
Weapon Rolled Ring Forgings
Forgings occupy an extremely important position in the weapon industry. By weight, 60% of the tanks are forgings. Gun barrels, muzzle brakes and tails in artillery, rifled barrels and triangular bayonet blades, rocket and submarine deep-water bomb launchers and mounts in infantry weapons, stainless steel valve bodies for high pressure coolers of nuclear submarines, shells, Bullets, etc., are forged products. In addition to steel forgings, weapons are also made from other materials.
Petrochemical Rolled Ring Forgings
Forgings are widely used in petrochemical equipment. Such as manholes and flange rolled ring forgings for spherical storage tanks, various tube plates required for heat exchangers, whole forged cylinders (pressure vessels) for catalytic cracking reactors for butt-welded flanges, tube joints for hydrogenation reactors, and fertilizers The top cover, bottom cover and head required by the equipment are forgings.
Mining Rolled Ring Forgings
According to the weight of the equipment, the proportion of forgings in the mining equipment is 12-24%. Mining equipment includes: mining equipment, hoisting equipment, crushing equipment, grinding equipment, washing equipment, sintering equipment.
Nuclear Power Rolled Ring Forging
Nuclear power is divided into two types: pressurized water reactor and boiling water reactor. The main large forgings of nuclear power plants can be divided into two categories: pressure shells and reactor internal components. Pressure shell contains: cylinder flange, nozzle section, nozzle, upper cylinder, lower cylinder, cylinder transition section, bolts, etc. The internal components of the reactor work under severe conditions such as high temperature, high pressure, strong neutron radiation, boric acid water corrosion, scouring and hydraulic vibration, so 18-8 austenitic stainless steel is used for production.
Thermal Power Rolled Ring Forgings
There are four key forgings in thermal power generation equipment, namely the rotor and guard ring of the turbine generator, and the impeller and turbine rotor in the steam turbine.
Hydroelectric Rolled Ring Forgings
Important forgings in hydroelectric power station equipment include hydro turbine shafts, hydro-generator shafts, mirror plates, thrust heads, etc.
Rolled Ring Forging Industry Is on the Rise
In recent years, China's rolled ring forging industry has implemented product structure adjustments in related industries such as power, metallurgy, and petrochemicals, increased product added value, transformed and eliminated high-pollution, high-energy-consumption, and low-efficiency equipment, and invested in large-scale equipment that is efficient, energy-saving, and environmentally friendly China has been given the opportunity for rapid development. The policy of correcting the development mode that depends on resources and sacrificing the environment, and vigorously develops renewable energy sources such as nuclear power and wind power have provided a good opportunity for the development of large-scale forgings.
The production of the entire rolled ring forging industry has been on a rising trend for several consecutive years, and product supply is in short supply, especially key large forging products show a worldwide shortage. Enterprises with large forging manufacturing resources have become important resources competing for the world. The economic benefits of the entire industry have improved significantly, and the industry has received a rare development opportunity. The product output, new product development output value, and main economic indicators of the industry have hit a record high for China's large forging industry.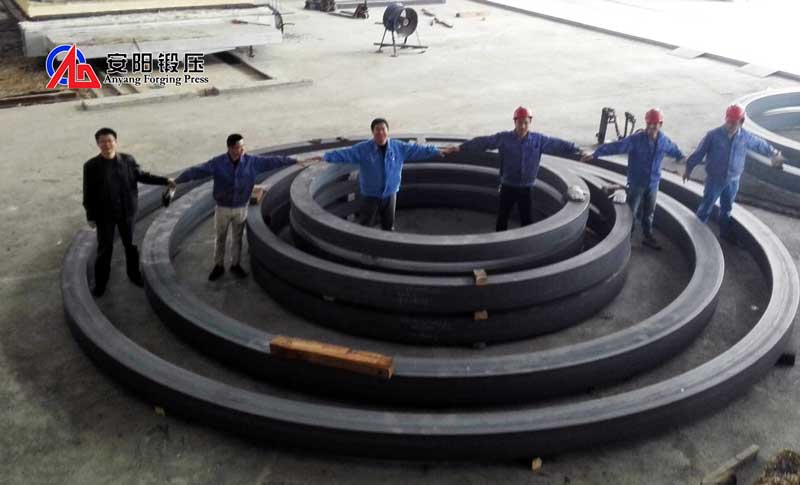 Ring Rolling Machine for Sale
There are two type of ring rolling machine vertical ring rolling machine and horizontal ring rolling machine.
D51 Horizontal Ring Rolling Machine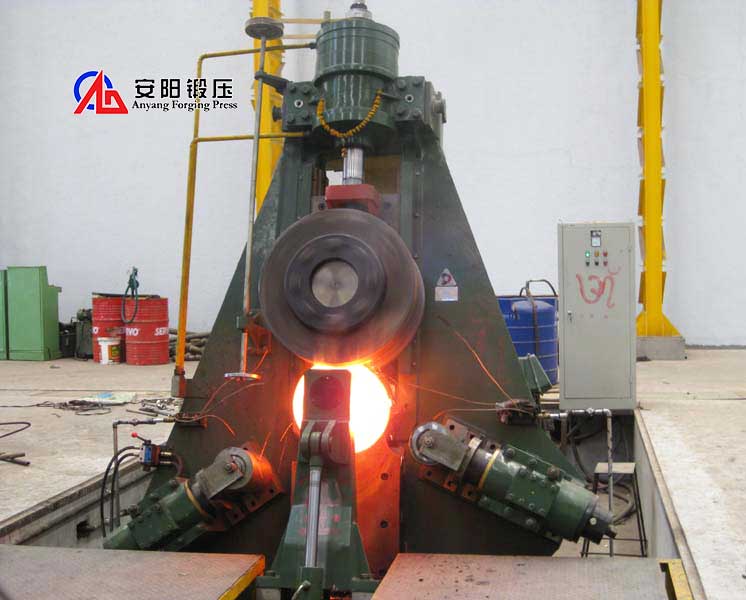 D51 ring rolling machine is suitable for production of rings in the field of automobile, machinery, oil&gas, chemical etc, it can produce the rings with rectangular cross-section and special section such as bearing rings, gear banks, flat flanges, weld-neck flanges etc, with features of once rolling, higher production efficiency, higher precision blanks.
Item
Unit

D51-

160D

D51-

160E

D51-

250D

D51-

250E

D51-

350D

D51-

350E

D51-

400E

D51-

500E

D51-

630E

D51-

800E

D51-

1000E

D51-

1000F

Max. OD of ring
mm
160
200
250
300
350
350
400
500
630
800
1000
1200
Min. OD of ring
mm
45
50
80
100
120
120
140
160
180
200
220
250
Max. ID of ring
mm
140
180
230
280
310
310
360
460
590
740
940
1100
Min. ID of ring
mm
30
40
60
80
100
100
120
120
160
180
200
220
Width of ring
mm
35
70
50
120
85
220
220
220
200
220
220
200
250
350
350
350
Max. Productivity
Pcs/h
700
600
500
240
200
120
100
90
80
60
50
40
Nominal pressure of cylinder
kg
6000
11300
9800
19600
15500
30000
32000
38000
38000
42000
42000
Max. slide stroke
mm
70
70
110
110
130
130
130
130
200-350
250
250
250
Roller line speed
m/sec
2~2.5
1.64
2.1
1.63
2.2
1.45
1.45
1.5
1.47
1.5
1.5
1.5
Main shaft speed
r.p.m
120
92
80
62.3
62
41
40
40
38
38
38
38
OD of rolling wheel
mm
360~380
500~520
680~700
680~700
700~720
700~720
700~720
760~820
760~820
820
Center height of rolling roller
mm
670
670
875
875
1050
1100
1100
1200
1250
1350
1600
1780

Min. distance between

rolling wheel′s center and

rolling roller′s center

mm
185
185
265
265
365
365
375
375
385
410
410
410
Main motor power
KW
18.5
30
37
55
75
90
90
90
90
110
110
132
110
132
132
160
Hydraulic motor
KW
4
7.5
11
11
15
15
15
15
15
15
15
15
18
18
18
Outsize of machine
mm

2200×

1550×

1850

2350×

1700×

2100

2890×

1900×

2400

3440×

2000×

2700

4040×

2000×

3000

4595×

2050×

3370

4595×

2100×

3370

4800×

2200×

3470

4800×

2300×

3770

4800×

2350×

3770

5000×

2400×

3520

5500×

2700×

4200

Weight of machine tool
kg
3200
3500
7000
7800
12000
15000
15800
16500
17000
22000
24000
25000
D53 CNC Radial And Axial Horizontal Ring Rolling Machine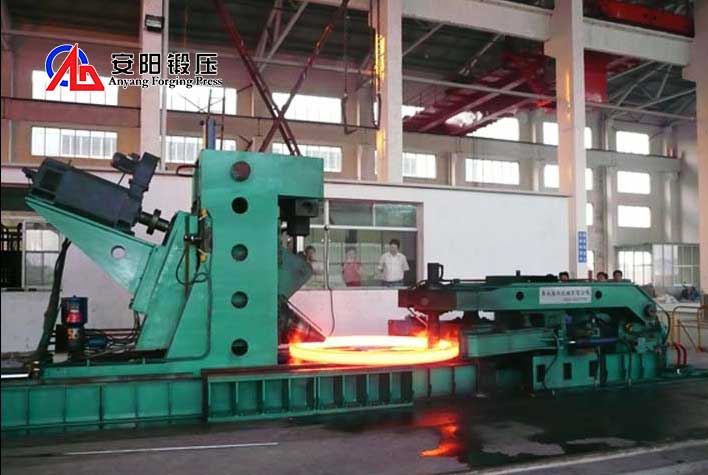 D53 series horizontal ring rolling machine is adopted CNC technology to roll the ring from radial and axial together. It is used to produce large size rings such as bearings, flanges and ball valves.
Item
Unit

D53K-

630

D53K-

1000

D53K-

1600

D53K-

2000

D53K-

2500

D53K-

3000

D53K-

3500

D53K-

5000

D53K-

6300

D53K-

8000

D53K-

9000

D53K-

10000

D53K-

12000

Machine

parater

Radial

force

KN
630
800
1250
1600
2000
2000
2000
2500
4000
6300
8000
10000
16000

Axial

force

KN
500
630
1000
1250
1250
1600
1600
2000
3150
4000
5000
6300
8000

Angel of

taper

roller

°
30
30
40
30
35
35
30
30
30
30
30
30
30

Rolling

line

speed

m/s
1.5
1.3 / 0.5~1.4

Drive

power

Radial

motor

KW
160
200
280
2×200
2×250
2×315
2×280
2×400
2×500
2×690
2×900
2×1250
2×2000

Axial

motor

KW
2×75
2×110
2×160
2×200
2×220
2×315
2×280
2×400
2×500
2×600
2×800
2×1000
2×1300

Brouching

dimension

OD of

roller

mm

300~

630

400~

1000

500~

1600

600~

2000

600~

2500

600~

3000

700~

3500

800~

5000

900~

6300

1000~

8000

1100~

9000

1250~

10000

1500~

12000

Spacing

distance

of

taper

rollers

mm

40~

300

50~

400

60~

500

80~

550

80~

550

80~

650

80~

650

90~

800

100~

1000

110~

1350

110~

1600

120~

1800

130-

2000

Machine

capacity

Max

rolling

height

mm
200
300
400
450
500
500
500
650
900
1200
1450
1650
2000

Max

width

of

billet

mm
150
180
200
350
300
400
420
500
700
800
850
1000
1200

Max

width

of

product

mm
90
110
120
200
150
220
250
300
420
480
530
600
700

Machine

outsize

Length
mm
9500
10500
11000
13500
14500
18000
19000
21000
25000
32000
36000
40000
47000
Width
mm
2100
2300
2500
2400
3500
3500
3400
4500
5800
6500
7500
8000
10000

Height

from

ground

mm
3000
3500
4300
5200
5000
5500
5800
6200
7200
9400
10000
10500
11500
Make Large Flange Rolled Rings in Belgium
Anyang Ring Rolling Machine and Pneumatic Forging Hammer Working in Romania